Book Club
Discuss books with fellow lit lovers in the community! We meet the second Thursday of every month at 1:30pm at the Argenta Library. The library can place a hold on the monthly selections for you if you wish. We also try to keep a few spare copies at each circulation desk.
Check out our top-rated books!
We're always open to new members – join at any time! If you can't make it in person to the book club discussion, click here to rate this month's book!
October 2021 Selection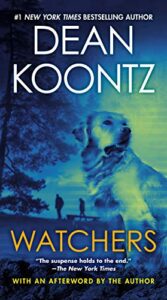 Watchers
by Dean Koontz
Discussion: Thursday, October 14th, 2021 at 1:30 pm.
Out of a government laboratory so sinister and secret that its very name cannot be whispered and into the life of certain good and evil people come two escaped creatures, one murderous and one benign and both "changed, changed utterly" from the ordinary animals they once were. To the scientists who fashioned them they are the end products of experiments in genetic engineering and enhanced intelligence and they want them back. To the people who encounter them they spell either doom or a touching new kind of love. At the climax of this heart-stopping novel they will inevitably meet.
November 2021 Selection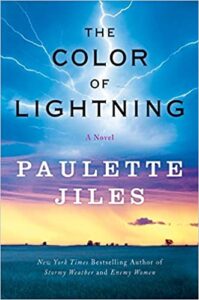 The Color of Lightning
by Paulette Jiles
Discussion: Thursday, November 11th, 2021 at 1:30 pm.
In 1863, as the War Between the States creeps inevitably toward its bloody conclusion, former Kentucky slave Britt Johnson ventures west into unknown territory with his wife, Mary, and their three children, searching for a life and a future. But their dreams are abruptly shattered by a brutal Indian raid upon the Johnsons' settlement while Britt is away establishing a business. Returning to find his friends and neighbors slain or captured, his eldest son dead, his beloved and severely damaged Mary enslaved, and his remaining children absorbed into an alien society that will never relinquish its hold on them, the heartsick freedman vows not to rest until his family is whole again.
December 2021 Selection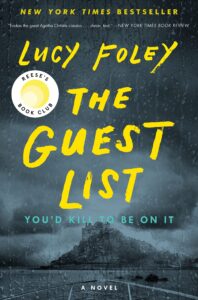 The Guest List
by Lucy Foley
Discussion: Thursday, December 9th, 2021 at 1:30 pm.
On an island off 
the
 coast of Ireland, 
guests
 gather to celebrate two people joining their lives together as one. 
The
 groom: handsome and charming, a rising television star. 
The
 bride: smart and ambitious, a magazine publisher. 
The
 cell phone service may be spotty and 
the
 waves may be rough, but every detail has been expertly planned and will be expertly executed. As 
the
 champagne is popped and 
the
 festivities begin, resentments and petty jealousies begin to mingle with 
the
 reminiscences and well wishes. 
The
 groomsmen begin 
the
 drinking game from their school days. 
The
 bridesmaid not-so-accidentally ruins her dress. 
The
 bride's oldest (male) friend gives an uncomfortably caring toast. And then someone turns up dead.
Past discussion selections:
September 2021: Sold On A Monday by Kristina McMorris — Our Rating: 3.20
August 2021: A Hundred Summers by Beatriz Williams — Our Rating: 2.75
July 2021: The River At Night by Erica Ferencik — Our Rating: 3.61
June 2021: Cherokee America by Margaret Verble — Our Rating: 3.04
May 2021: The Bartender's Tale by Ivan Doig — Our Rating: 3.95
April 2021: If the Creek Don't Rise by Leah Weiss — Our Rating: 4.17
March 2021: Burial Rites by Hannah Kent — Our Rating: 4.28
February 2021: We Are Not Ourselves by Matthew Thomas — Our Rating: 2.56
January 2021: Pompeii by Robert Harris — Our Rating: 4.27


Interested in participating? Let us know!
We'll keep you informed of future discussions and even place a hold on the book for you.
Each month the Book Discussion Group rates the book that we have read on a scale from 1-5.