Book Discussions
Discuss books with fellow lit lovers in the community! We meet the second Thursday of every month at 1:30pm at the Argenta Library. The library can place a hold on the monthly selections for you if you wish. We also try to keep a few spare copies at the circulation desk.
We're always open to new members – join at any time! Contact us if you'd like more information.
December Selection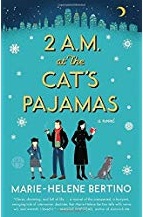 2 A.M. at the Cat's Pajamas
by Marie-Helene Bertino
Discussion: Thursday, December 13, 2018 at 1:30 pm
at the Argenta Library
Description:
Madeleine Altimari is a smart-mouthed, rebellious nine-year-old who also happens to be an aspiring jazz singer. Still mourning the recent death of her mother, and caring for her grief-stricken father, she doesn't realize that on the eve of Christmas Eve she is about to have the most extraordinary day–and night–of her life. After bravely facing down mean-spirited classmates and rejection at school, Madeleine doggedly searches for Philadelphia's legendary jazz club, The Cat's Pajamas, where she's determined to make her on-stage debut. On the same day, her fifth grade teacher Sarina Greene, who's just moved back to Philly after a divorce, is nervously looking forward to a dinner party that will reunite her with an old high school crush, afraid to hope that sparks might fly again. And across town at The Cat's Pajamas, club owner Lorca discovers that his beloved haunt may have to close forever, unless someone can find a way to quickly raise the $30,000 that would save it. As these three lost souls search for love, music and hope on the snow-covered streets of Philadelphia, together they will discover life's endless possibilities over the course of one magical night.
January Selection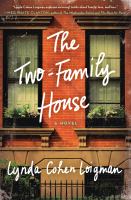 The Two-Family House
by Lynda Cohen Loigman
Discussion: Thursday, January 10, 2019 at 1:30 pm
at the Argenta Library
Description:
1947, Brooklyn: in the midst of a blizzard, in a brownstone, two babies are born minutes apart to two women. They are sisters by marriage with an impenetrable bond forged before and during that dramatic night; but as the years progress, small cracks start to appear and their once deep friendship begins to unravel. No one knows why, and no one can stop it.
February Selection
Beneath a Scarlet Sky
by Mark Sullivan
Discussion: Thursday, February 14, 2019 at 1:30 pm
at the Argenta Library
Description:
When teenager Pino Lella's family home in Milan is bombed by Allied forces, he joins an underground network to help Jews escape over the Alps. His parents force him to enlist as a German soldier and he becomes the personal driver for General Hans Leyers, Hitler's left hand in Italy. With the opportunity to spy for the Allies inside the German High Command, Pino endures the horrors of the war and the Nazi occupation by fighting in secret.
Past discussion selections:
November 2018: Before We Were Yours by Lisa Wingate– Our Rating: 4.0
October 2018: Tell Me Three Things by Julie Buxbaum — Our Rating: 3.3
September 2018: The Girl in the Blue Coat by Monica Hesse — Our Rating: 3.5
August 2018: Under a Dark Summer Sky by Vanessa Lafaye– Our Rating: 4.53 
July 2018: Camino Island  by John Grisham — Our Rating: 2.4 
June 2018: Hissy Fit  by Mary Kay Andrews — Our Rating: 2.52 
May 2018: The Little Paris Bookshop  by Nina George — Our Rating: 2.75 
April 2018: The Secret Wisdom of the Earth by Christopher Scotton — Our Rating: 4.4
March 2018: Small Great Things by Jodi Picoult — Our Rating: 3.9
February 2018: Behind Closed Doors by B.A. Paris — Our Rating: 2.02
January 2018: All the Winters After by Sere Prince Halverson — Our Rating: 4.2
December 2017: Oil & Marble by Stephanie Storey — Our Rating: 4.1
November 2017: The Woman in Cabin 10 by Ruth Ware — Our Rating: 1.9
October 2017: Plainsong by Kent Haruf — Our Rating: 4.1
September 2017: What She Left Behind by Ellen Marie Wiseman — Our Rating: 2.5
August 2017: Maine by Ellen Marie Wiseman — Our Rating: 3.6
July 2017: Ordinary Grace by William Kent Krueger — Our Rating: 4.2
June 2017: The Bones of Paradise by Jonis Agee — Our Rating: 4.0
May 2017: The Lake House by Kate Morton — Our Rating: 3.4
April 2017: The Sandcastle Girls by Chris Bohjalian — Our Rating: 4.6
March 2017: The Kitchen House by Kathleen Grissom — Our Rating: 2.3
February 2017: The Nightingale by Kristin Hannah — Our Rating: 4.9
January 2017: The Life We Bury by Allen Eskens — Our Rating: 4.6
Click Here to see 2013-2016 Discussion Selections
Interested in participating? Let us know!
We'll keep you informed of future discussions and even place a hold on the book for you.
Each month the Book Discussion Group rates the book that we have read on a scale from 1-5.