Book Club
Discuss books with fellow lit lovers in the community! We meet the second Thursday of every month at 1:30pm at the Argenta Library. The library can place a hold on the monthly selections for you if you wish. We also try to keep a few spare copies at the circulation desk.
We're always open to new members – join at any time! Contact us if you'd like more information.
June Selection

Delta Wedding
by Eudora Welty
Discussion: Thursday, June 13, 2019 at 1:30 pm
at the Argenta Library
Description:
A vivid and charming portrait of a large southern family, the Fairchilds, who live on a plantation in the Mississippi delta. The story, set in 1923, is exquisitely woven from the ordinary events of family life, centered around the visit of a young relative, Laura McRaven, and the family's preparations for her cousin Dabney's wedding.
July Selection

Traveling Light
by Lynne Branard
Discussion: Thursday, July 11, 2019 at 1:30 pm
at the Argenta Library
Description:
Driving from North Carolina to New Mexico with her three-legged dog, a strange man's ashes, and a waitress named Blossom riding shotgun isn't exactly what Alissa Wells ever wanted to be doing. But it's exactly what she needs … It all starts when Alissa impulsively puts a bid on an abandoned storage unit, only to become the proud new owner of Roger Hart's remains. Two weeks later, she jumps in her car and heads west, thinking that returning the ashes of a dead man might be the first step on her way to a new life. She isn't wrong. Especially when Blossom, who just graduated from high school, hitches a ride with her to Texas, and Alissa has to get used to letting someone else take the wheel. Posting about their road trip on Facebook, complete with photos of Roger at every stop, Blossom opens Alissa's eyes to the road in front of her–and to how sometimes the best things in life are the ones you never see coming.
August Selection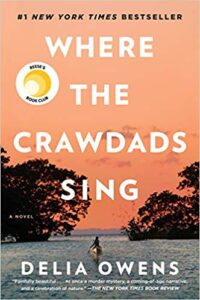 Where the Crawdads Sing
by Delia Owens
Discussion: Thursday, August 8, 2019 at 1:30 pm
at the Argenta Library
Description:
For years, rumors of the "Marsh Girl" have haunted Barkley Cove, a quiet town on the North Carolina coast. She's barefoot and wild; unfit for polite society. So in late 1969, when handsome Chase Andrews is found dead, the locals immediately suspect Kya Clark. But Kya is not what they say. Abandoned at age ten, she has survived on her own in the marsh that she calls home. A born naturalist with just one day of school, she takes life lessons from the land, learning from the false signals of fireflies the real way of this world. But while she could have lived in solitude forever,the time comes when she yearns to be touched and loved. Drawn to two young men from town, who are each intrigued by her wild beauty, Kya opens herself to a new and startling world — until the unthinkable happens
Past discussion selections:
May 2019: The Mirror by Marlys Millhiser — Our Rating: 3.95
April 2019: Beginning of Spring by Penelope Fitzgerald — Our Rating: 1.87
March 2019: The Hideaway by Lauren K. Denton — Our Rating: 3.85
February 2019: Beneath a Scarlet Sky by Mark Sullivan — Our Rating: 3.75
January 2019: The Two-Family House by Lynda Cohen Loigman — Our Rating: 3.7
December 2018: 2 AM at the Cat's Pajamas by Marie-Helene Bertino — Our Rating: 3.4
November 2018: Before We Were Yours by Lisa Wingate– Our Rating: 4.0
October 2018: Tell Me Three Things by Julie Buxbaum — Our Rating: 3.3
September 2018: The Girl in the Blue Coat by Monica Hesse — Our Rating: 3.5
August 2018: Under a Dark Summer Sky by Vanessa Lafaye– Our Rating: 4.53 
July 2018: Camino Island  by John Grisham — Our Rating: 2.4 
June 2018: Hissy Fit  by Mary Kay Andrews — Our Rating: 2.52 
May 2018: The Little Paris Bookshop  by Nina George — Our Rating: 2.75 
April 2018: The Secret Wisdom of the Earth by Christopher Scotton — Our Rating: 4.4
March 2018: Small Great Things by Jodi Picoult — Our Rating: 3.9
February 2018: Behind Closed Doors by B.A. Paris — Our Rating: 2.02
January 2018: All the Winters After by Sere Prince Halverson — Our Rating: 4.2
Click Here to see 2013-2017 Discussion Selections
Interested in participating? Let us know!
We'll keep you informed of future discussions and even place a hold on the book for you.
Each month the Book Discussion Group rates the book that we have read on a scale from 1-5