Book Club
Discuss books with fellow lit lovers in the community! We meet the second Thursday of every month at 1:30pm at the Argenta Library. The library can place a hold on the monthly selections for you if you wish. We also try to keep a few spare copies at the circulation desk. Check out our top-rated books!
We're always open to new members – join at any time! Contact us if you'd like more information.
August Selection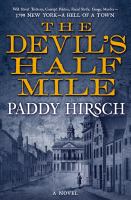 The Devil's Half Mile 
by Paddy Hirsch
Discussion: Thursday, August 13, 2020 at 1:30 pm (hopefully in person)!
In 1799, seven years after a financial crisis that nearly tore apart the young United States, lawyer Justy Flanagan returns to New York City to solve his father's murder and uncovers a massive fraud that the perpetrators are determined to keep secret at any cost.
September Selection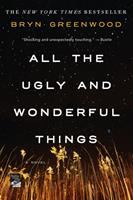 All the Ugly and Wonderful Things 
by Bryn Greenwood
Discussion: Thursday, September 10, 2020 at 1:30 pm (hopefully in person)!
As the daughter of a drug dealer, Wavy knows not to trust people, not even her own parents. It's safer to keep her mouth shut and stay out of sight. Struggling to raise her little brother, Donal, eight-year-old Wavy is the only responsible adult around. Obsessed with the constellations, she finds peace in the starry night sky above the fields behind her house, until one night her star gazing causes an accident. After witnessing his motorcycle wreck, she forms an unusual friendship with one of her father's thugs, Kellen, a tattooed ex-con with a heart of gold. By the time Wavy is a teenager, her relationship with Kellen is the only tender thing in a brutal world of addicts and debauchery. When tragedy rips Wavy's family apart, a well-meaning aunt steps in, and what is beautiful to Wavy looks ugly under the scrutiny of the outside world. Kellen may not be innocent, but he is the fixed point in Wavy and Donal's chaotic universe. Instead of playing it safe, Wavy has to learn to fight for Kellen, for her brother, and for herself.
October Selection
The Island 
by Victoria Hislop
Discussion: Thursday, October 8, 2020 at 1:30 pm (hopefully in person)!
The Petrakis family lives in the small Greek seaside village of Plaka. Just off the coast is the tiny island of Spinalonga, where the nation's leper colony once was located—a place that has haunted four generations of Petrakis women. There's Eleni, ripped from her husband and two young daughters and sent to Spinalonga in 1939, and her daughters Maria, finding joy in the everyday as she dutifully cares for her father, and Anna, a wild child hungry for passion and a life anywhere but Plaka. And finally there's Alexis, Eleni's great-granddaughter, visiting modern-day Greece to unlock her family's past.
Past discussion selections:
June 2020: The Old Man and the Sea by Ernest Hemingway — Our Rating: 4.36
March 2020: Magpie Murders by Anthony Horowitz — Our Rating: 2.8
February 2020: Courting Mr. Lincoln by Louis Bayard — Our Rating: 3.8
January 2020: Eleanor Oliphant is Completely Fine by Gail Honeyman  — Our Rating: 3.97
December 2019: Last Christmas in Paris by Hazel Gaynor and Heather Webb  — Our Rating: 3.95
November 2019: Cemetery Road by Greg Iles — Our Rating: 4.3
October 2019: The Silent Wife by Kerry Fisher — Our Rating: 3.1
September 2019: Less by Andrew Sean Greer — Our Rating: 1.79
August 2019: The Tea Girl of Hummingbird Lane by Lisa See — Our Rating: 4.36
July 2019: Traveling Light by Lynne Branard — Our Rating: 3.1
June 2019: Delta Wedding by Eudora Welty — Our Rating: 2.0
May 2019: The Mirror by Marlys Millhiser — Our Rating: 3.95
April 2019: Beginning of Spring by Penelope Fitzgerald — Our Rating: 1.87
March 2019: The Hideaway by Lauren K. Denton — Our Rating: 3.85
February 2019: Beneath a Scarlet Sky by Mark Sullivan — Our Rating: 3.75
January 2019: The Two-Family House by Lynda Cohen Loigman — Our Rating: 3.7

Click Here to see 2013-2018 Discussion Selections
Interested in participating? Let us know!
We'll keep you informed of future discussions and even place a hold on the book for you.
Each month the Book Discussion Group rates the book that we have read on a scale from 1-5.