Book Discussions
Discuss books with fellow lit lovers in the community! We meet the second Thursday of every month at 1:30pm at the Argenta Library. The library can place a hold on the monthly selections for you if you wish. We also try to keep a few spare copies at the circulation desk.
We're always open to new members – join at any time! Contact us if you'd like more information.
May Selection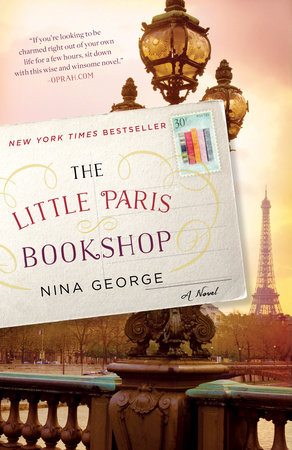 The Little Paris Bookshop
by Nina George
Discussion: Thursday, May 10, 2018 at 1:30 pm
at the Argenta Library
Description:
Monsieur Perdu calls himself a literary apothecary. From his floating bookstore in a barge on the Seine, he prescribes novels for the hardships of life. Using his intuitive feel for the exact book a reader needs, Perdu mends broken hearts and souls. The only person he can't seem to heal through literature is himself; he's still haunted by heartbreak after his great love disappeared. She left him with only a letter, which he has never opened. After Perdu is finally tempted to read the letter, he hauls anchor and departs on a mission to the south of France, hoping to make peace with his loss and discover the end of the story. Joined by a bestselling but blocked author and a lovelorn Italian chef, Perdu travels along the country's rivers, dispensing his wisdom and his books, showing that the literary world can take the human soul on a journey to heal itself.
June Selection
Hissy Fit
by Mary Kay Andrews
Discussion: Thursday, June 14, 2018 at 1:30 pm
at the Argenta Library
Description:
Keeley Murdock's wedding to A. J. Jernigan should have been the social event of the season. But when she catches her fiance doing the deed with her maid of honor at the country club rehearsal dinner, all bets are off. And so is the wedding. Keeley pitches the hissy fit of the century, earning herself instant notoriety in the small town of Madison, Georgia.Even worse is the financial pressure A.J.'s banking family brings to bear on Keeley's interior design business. But riding to the rescue — in a vintage yellow Cadillac — is the redheaded stranger who's purchased a failing local bra plant. Will Mahoney hires Keeley to redo the derelict antebellum mansion he's bought. Her assignment: decorate it for the woman of his dreams — a woman he's never met.Only a designing woman like Keeley Murdock can find a way to clear her name and give her cheating varmint of an ex-fiance the comeuppance he so richly deserves.
July Selection
Camino Island
by John Grisham
Discussion: Thursday, July 12, 2018 at 1:30 pm
at the Argenta Library
Description:
A gang of thieves stage a daring heist from a secure vault deep below Princeton University's Firestone Library. Their loot is priceless, but Princeton has insured it for twenty-five million dollars. Bruce Cable owns a popular bookstore in the sleepy resort town of Santa Rosa on Camino Island in Florida. He makes his real money, though, as a prominent dealer in rare books. Very few people know that he occasionally dabbles in the black market of stolen books and manuscripts.
Past discussion selections:
April 2018: The Secret Wisdom of the Earth by Christopher Scotton — Our Rating: 4.4
March 2018: Small Great Things by Jodi Picoult — Our Rating: 3.9
February 2018: Behind Closed Doors by B.A. Paris — Our Rating: 2.02
January 2018: All the Winters After by Sere Prince Halverson — Our Rating: 4.2
December 2017: Oil & Marble by Stephanie Storey — Our Rating: 4.1
November 2017: The Woman in Cabin 10 by Ruth Ware — Our Rating: 1.9
October 2017: Plainsong by Kent Haruf — Our Rating: 4.1
September 2017: What She Left Behind by Ellen Marie Wiseman — Our Rating: 2.5
August 2017: Maine by Ellen Marie Wiseman — Our Rating: 3.6
July 2017: Ordinary Grace by William Kent Krueger — Our Rating: 4.2
June 2017: The Bones of Paradise by Jonis Agee — Our Rating: 4.0
May 2017: The Lake House by Kate Morton — Our Rating: 3.4
April 2017: The Sandcastle Girls by Chris Bohjalian — Our Rating: 4.6
March 2017: The Kitchen House by Kathleen Grissom — Our Rating: 2.3
February 2017: The Nightingale by Kristin Hannah — Our Rating: 4.9
January 2017: The Life We Bury by Allen Eskens — Our Rating: 4.6
Click Here to see 2013-2016 Discussion Selections
Interested in participating? Let us know!
We'll keep you informed of future discussions and even place a hold on the book for you.
Each month the Book Discussion Group rates the book that we have read on a scale from 1-5.