Book Club
Discuss books with fellow lit lovers in the community! We meet the second Thursday of every month at 1:30pm at the Argenta Library. The library can place a hold on the monthly selections for you if you wish. We also try to keep a few spare copies at the circulation desk.
We're always open to new members – join at any time! Contact us if you'd like more information.
August Selection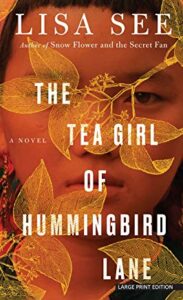 The Tea Girl of Hummingbird Lane
by Lisa See
Discussion: Thursday, August 8, 2019 at 1:30 pm
at the Argenta Library
Description:
A thrilling new novel from #1 New York Times bestselling author Lisa See explores the lives of a Chinese mother and her daughter who has been adopted by an American couple. Li-yan and her family align their lives around the seasons and the farming of tea. There is ritual and routine, and it has been ever thus for generations. Then one day a jeep appears at the village gate–the first automobile any of them have seen–and a stranger arrives. In this remote Yunnan village, the stranger finds the rare tea he has been seeking and a reticent Akha people. In her biggest seller, Snow Flower and the Secret Fan, See introduced the Yao people to her readers. Here she shares the customs of another Chinese ethnic minority, the Akha, whose world will soon change. Li-yan, one of the few educated girls on her mountain, translates for the stranger and is among the first to reject the rules that have shaped her existence. When she has a baby outside of wedlock, rather than stand by tradition, she wraps her daughter in a blanket, with a tea cake hidden in her swaddling, and abandons her in the nearest city. After mother and daughter have gone their separate ways, Li-yan slowly emerges from the security and insularity of her village to encounter modern life while Haley grows up a privileged and well-loved California girl. Despite Haley's happy home life, she wonders about her origins; and Li-yan longs for her lost daughter. They both search for and find answers in the teat hat has shaped their family's destiny for generations. A powerful story about a family, separated by circumstances, culture, and distance, The Tea Girl of Hummingbird Lane paints an unforgettable portrait of a little known region and its people and celebrates the bond that connects mothers and daughters.
September Selection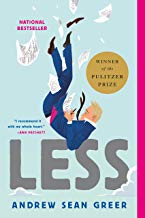 Less
by Andrew Sean Greer
Discussion: Thursday, September 12, 2019 at 1:30 pm
at the Argenta Library
Description:
Who says you can't run away from your problems? You are a failed novelist about to turn 50. A wedding invitation arrives in the mail: Your boyfriend of the past nine years is engaged to someone else. You can't say yes – it would be too awkward – and you can't say no – it would look like defeat. On your desk are a series of invitations to half-baked literary events around the world. Question: How do you arrange to skip town? Answer: You accept them all.What would possibly go wrong? Arthur Less will almost fall in love in Paris, almost fall to his death in Berlin, barely escape to a Moroccan ski chalet from a Saharan sandstorm, accidentally book himself as the (only) writer-in-residence at a Christian Retreat Center in Southern India, and encounter, on a desert island in the Arabian Sea, the last person on Earth he wants to face. Somewhere in there: He will turn 50. Through it all there is his first love. And there is his last. Because despite all these mishaps, missteps, misunderstandings, and mistakes, Less is, above all, a love story. A scintillating satire of the American abroad, a rumination on time and the human heart, a bittersweet romance of chances lost, by an author the New York Times, Less shows a writer at the peak of his talents raising the curtain on our shared human comedy.
October Selection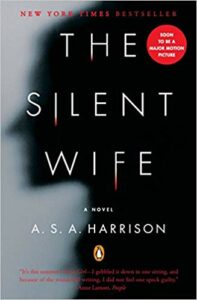 The Silent Wife
by Kerry Fisher
Discussion: Thursday, October 10, 2019 at 1:30 pm
at the Argenta Library
Description:
Jodi and Todd are at a bad place in their marriage. Much is at stake, including the affluent life they lead in their beautiful waterfront condo in Chicago, as she, the killer, and he, the victim, rush haplessly toward the main event. He is a committed cheater. She lives and breathes denial. He exists in dual worlds. She likes to settle scores. He decides to play for keeps. She has nothing left to lose. Told in alternating voices, The Silent Wife is about a marriage in the throes of dissolution, a couple headed for catastrophe, concessions that can't be made, and promises that won't be kept.
Past discussion selections:
July 2019: Traveling Light by Lynne Branard — Our Rating: 3.1
June 2019: Delta Wedding by Eudora Welty — Our Rating: 2.0
May 2019: The Mirror by Marlys Millhiser — Our Rating: 3.95
April 2019: Beginning of Spring by Penelope Fitzgerald — Our Rating: 1.87
March 2019: The Hideaway by Lauren K. Denton — Our Rating: 3.85
February 2019: Beneath a Scarlet Sky by Mark Sullivan — Our Rating: 3.75
January 2019: The Two-Family House by Lynda Cohen Loigman — Our Rating: 3.7
December 2018: 2 AM at the Cat's Pajamas by Marie-Helene Bertino — Our Rating: 3.4
November 2018: Before We Were Yours by Lisa Wingate– Our Rating: 4.0
October 2018: Tell Me Three Things by Julie Buxbaum — Our Rating: 3.3
September 2018: The Girl in the Blue Coat by Monica Hesse — Our Rating: 3.5
August 2018: Under a Dark Summer Sky by Vanessa Lafaye– Our Rating: 4.53 
July 2018: Camino Island  by John Grisham — Our Rating: 2.4 
June 2018: Hissy Fit  by Mary Kay Andrews — Our Rating: 2.52 
May 2018: The Little Paris Bookshop  by Nina George — Our Rating: 2.75 
April 2018: The Secret Wisdom of the Earth by Christopher Scotton — Our Rating: 4.4
March 2018: Small Great Things by Jodi Picoult — Our Rating: 3.9
February 2018: Behind Closed Doors by B.A. Paris — Our Rating: 2.02
January 2018: All the Winters After by Sere Prince Halverson — Our Rating: 4.2
Click Here to see 2013-2017 Discussion Selections
Interested in participating? Let us know!
We'll keep you informed of future discussions and even place a hold on the book for you.
Each month the Book Discussion Group rates the book that we have read on a scale from 1-5