Book Discussions
Discuss books with fellow lit lovers in the community! We meet the second Thursday of every month at 1:30pm at the Argenta Library. The library can place a hold on the monthly selections for you if you wish. We also try to keep a few spare copies at the circulation desk.
We're always open to new members – join at any time! Contact us if you'd like more information.
March Selection

Small Great Things
by Jodi Picoult
Discussion: Thursday, March 8, 2018 at 1:30 pm
at the Argenta Library
Description:
Ruth Jefferson is a labor and delivery nurse at a Connecticut hospital with more than twenty years' experience. During her shift, she begins a routine checkup on a newborn, only to be told that she's been reassigned to another patient. The parents are white supremacists and don't want Ruth, who is African American, to touch their child. The next day, the baby goes into cardiac distress while Ruth is alone in the nursery. Does she obey orders or does she intervene? She hesitates before performing CPR and, as a result, is charged with a serious crime. Kennedy McQuarrie, a white public defender, takes her case. As the trial moves forward, Ruth and Kennedy must gain each other's trust, and come to see that what they've been taught their whole lives about others–and themselves–might be wrong.
April Selection

The Secret Wisdom of the Earth
by Christopher Scotton
Discussion: Thursday, April 12, 2018 at 1:30 pm
at the Argenta Library
Description:
After witnessing the death of his younger brother in a terrible home accident, 14-year-old Kevin and his grieving mother are sent for the summer to live with Kevin's grandfather. In this peeled-paint coal town deep in Appalachia, Kevin quickly falls in with a half-wild hollow kid named Buzzy Fink who schools him in the mysteries and magnificence of the woods.
May Selection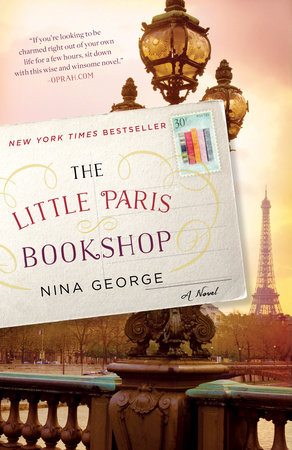 The Little Paris Bookshop
by Nina George
Discussion: Thursday, May 10, 2018 at 1:30 pm
at the Argenta Library
Description:
Monsieur Perdu calls himself a literary apothecary. From his floating bookstore in a barge on the Seine, he prescribes novels for the hardships of life. Using his intuitive feel for the exact book a reader needs, Perdu mends broken hearts and souls. The only person he can't seem to heal through literature is himself; he's still haunted by heartbreak after his great love disappeared. She left him with only a letter, which he has never opened. After Perdu is finally tempted to read the letter, he hauls anchor and departs on a mission to the south of France, hoping to make peace with his loss and discover the end of the story. Joined by a bestselling but blocked author and a lovelorn Italian chef, Perdu travels along the country's rivers, dispensing his wisdom and his books, showing that the literary world can take the human soul on a journey to heal itself.
Past discussion selections:
February 2018: Behind Closed Doors by B.A. Paris — Our Rating: 2.02
January 2018: All the Winters After by Sere Prince Halverson — Our Rating: 4.2
December 2017: Oil & Marble by Stephanie Storey — Our Rating: 4.1
November 2017: The Woman in Cabin 10 by Ruth Ware — Our Rating: 1.9
October 2017: Plainsong by Kent Haruf — Our Rating: 4.1
September 2017: What She Left Behind by Ellen Marie Wiseman — Our Rating: 2.5
August 2017: Maine by Ellen Marie Wiseman — Our Rating: 3.6
July 2017: Ordinary Grace by William Kent Krueger — Our Rating: 4.2
June 2017: The Bones of Paradise by Jonis Agee — Our Rating: 4.0
May 2017: The Lake House by Kate Morton — Our Rating: 3.4
April 2017: The Sandcastle Girls by Chris Bohjalian — Our Rating: 4.6
March 2017: The Kitchen House by Kathleen Grissom — Our Rating: 2.3
February 2017: The Nightingale by Kristin Hannah — Our Rating: 4.9
January 2017: The Life We Bury by Allen Eskens — Our Rating: 4.6
Click Here to see 2013-2016 Discussion Selections
Interested in participating? Let us know!
We'll keep you informed of future discussions and even place a hold on the book for you.
Each month the Book Discussion Group rates the book that we have read on a scale from 1-5.