Book Club
Discuss books with fellow lit lovers in the community! We meet the second Thursday of every month at 1:30pm at the Argenta Library. The library can place a hold on the monthly selections for you if you wish. We also try to keep a few spare copies at the circulation desk. Check out our top-rated books!
We're always open to new members – join at any time! Contact us if you'd like more information.
November 2020 Selection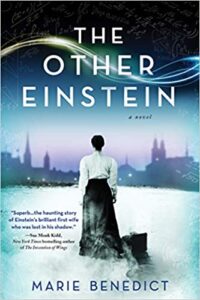 The Other Einstein
by Marie Benedict
Discussion: Thursday, November 12th, 2020 at 1:30 pm!
Mitza Maric has always been a little different from 
other
 girls. Most twenty-year-olds are wives by now, not studying physics at an elite Zurich university with only male students trying to outdo her clever calculations. But Mitza is smart enough to know that, for her, math is an easier path than marriage. And then fellow student Albert 
Einstein
 takes an interest in her, and 
the
 world turns sideways. Theirs becomes a partnership of 
the
 mind and of 
the
 heart, but there might not be room for more than one genius in a marriage.
December 2020 Selection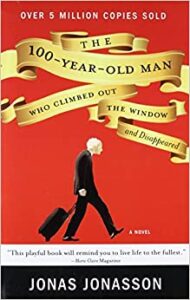 The 100-Year-Old Man Who Climbed Out the Window and Disappeared
by Jonas Jonasson
Discussion: Thursday, December 10th, 2020 at 1:30 pm!
After a long 
and
 eventful life, Allan Karlsson ends up in a nursing home, believing it to be his last stop. 
The
 only problem is that he's still in good health—
and
 tomorrow is his hundredth birthday. A big celebration is in 
the
 works, but Allan really isn't interested (
and
 he'd like a bit more control over his vodka consumption). So he decides to escape. He 
climbs
out
the
window
 in his slippers 
and
 embarks on a hilarious 
and
 entirely unexpected journey, involving, among other surprises, a suitcase stuffed with cash, some unpleasant criminals, a friendly hot-dog stand operator, 
and
an elephant. Quirky
and
 utterly unique, 
The
100
–
Year O
ld
Man
Who
Climbed
Out
the
Window
and
Disappeared
has charmed over two million people around
the
 world.
January 2021 Selection
Pompeii
by Robert Harris
Discussion: Thursday, January 14th, 2021 at 1:30 pm!
When the aqueduct that brings fresh water to thousands of people around the bay of Naples fails, Roman engineer Marius Primus heads to the slopes of Mount Vesuvius to investigate, only to come face to face with an impending catastrophe.
February 2021 Selection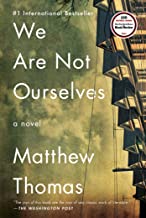 We Are Not Ourselves
by Matthew Thomas
Discussion: Thursday, February 11th, 2021 at 1:30 pm!
Born in 1941, Eileen Tumulty is raised by her Irish immigrant parents in Woodside, Queens, in an apartment where the mood swings between heartbreak and hilarity, depending on whether guests 
are
over and how much alcohol has been consumed. Eileen can't help but dream of a calmer life, in a better neighborhood. When Eileen meets Ed Leary, a scientist whose bearing is nothing like those of the men she grew up with, she thinks she's found the perfect partner to deliver her to the cosmopolitan world she longs to inhabit. They marry, and Eileen quickly discovers Ed doesn't aspire to the same, ever bigger, stakes in the American Dream. Eileen encourages her husband to want more: a better job, better friends, a better house, but as years pass it becomes clear that his growing reluctance is part of a deeper psychological shift. An inescapable darkness enters their lives, and Eileen and Ed and their son Connell try desperately to hold together a semblance of the reality they have known, and to preserve, against long odds, an idea they have cherished of the future.
March 2021 Selection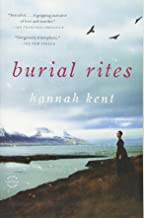 Burial Rites
by Hannah Kent
Discussion: Thursday, March 11th, 2021 at 1:30 pm!
Set against Iceland's stark landscape, 
Hannah
Kent
 brings to vivid life the story of Agnes, who, charged with the brutal murder of her former master, is sent to an isolated farm to await execution. Horrified at the prospect of housing a convicted murderer, the family at first avoids Agnes. Only Tóti, a priest Agnes has mysteriously chosen to be her spiritual guardian, seeks to understand her. But as Agnes's death looms, the farmer's wife and their daughters learn there is another side to the sensational story they've heard.
April 2021 Selection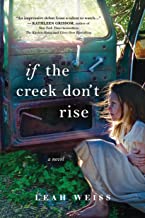 If the Creek Don't Rise
by Leah Weiss
Discussion: Thursday, April 8th, 2021 at 1:30 pm!
In a North Carolina mountain town filled with moonshine and rotten husbands, Sadie Blue is only 
the
 latest girl to face a dead-end future at 
the
 mercy of a dangerous drunk. She's been married to Roy Tupkin for fifteen days, and she knows now that she should have listened to 
the
 folks who said he was trouble. When a stranger sweeps in and knocks 
the
 world off-kilter for everyone in town, Sadie begins to think there might be more to life than being Roy's wife.
Past discussion selections:
October 2020: The Island by Victoria Hislop — Our Rating: 4.05
September 2020: All the Ugly and Wonderful Things by Bryn Greenwood — Our Rating: 4.0
July/August 2020: TheDevil's Half Mile by Paddy Hirsch — Our Rating: 3.71
June 2020: The Old Man and the Sea by Ernest Hemingway — Our Rating: 4.36
March 2020: Magpie Murders by Anthony Horowitz — Our Rating: 2.8
February 2020: Courting Mr. Lincoln by Louis Bayard — Our Rating: 3.8
January 2020: Eleanor Oliphant is Completely Fine by Gail Honeyman  — Our Rating: 3.97
December 2019: Last Christmas in Paris by Hazel Gaynor and Heather Webb  — Our Rating: 3.95
November 2019: Cemetery Road by Greg Iles — Our Rating: 4.3
October 2019: The Silent Wife by Kerry Fisher — Our Rating: 3.1
September 2019: Less by Andrew Sean Greer — Our Rating: 1.79
August 2019: The Tea Girl of Hummingbird Lane by Lisa See — Our Rating: 4.36
July 2019: Traveling Light by Lynne Branard — Our Rating: 3.1
June 2019: Delta Wedding by Eudora Welty — Our Rating: 2.0
May 2019: The Mirror by Marlys Millhiser — Our Rating: 3.95
April 2019: Beginning of Spring by Penelope Fitzgerald — Our Rating: 1.87
March 2019: The Hideaway by Lauren K. Denton — Our Rating: 3.85
February 2019: Beneath a Scarlet Sky by Mark Sullivan — Our Rating: 3.75
January 2019: The Two-Family House by Lynda Cohen Loigman — Our Rating: 3.7

Click Here to see 2013-2018 Discussion Selections
Interested in participating? Let us know!
We'll keep you informed of future discussions and even place a hold on the book for you.
Each month the Book Discussion Group rates the book that we have read on a scale from 1-5.