Book Club
Discuss books with fellow lit lovers in the community! We meet the second Thursday of every month at 1:30pm at the Argenta Library. The library can place a hold on the monthly selections for you if you wish. We also try to keep a few spare copies at the circulation desk.
We're always open to new members – join at any time! Contact us if you'd like more information.
October Selection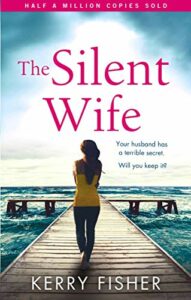 The Silent Wife
by Kerry Fisher
Discussion: Thursday, October 10, 2019 at 1:30 pm
at the Argenta Library
Description:
Lara's life looks perfect on the surface. Gorgeous doting husband Massimo, sweet little son Sandro and the perfect home. Lara knows something about Massimo. Something she can't tell anyone else or everything he has worked so hard for will be destroyed: his job, their reputation, their son. This secret is keeping Lara a prisoner in her marriage. Maggie is married to Massimo's brother Nico and lives with him and her troubled stepdaughter. She knows all of Nico's darkest secrets – or so she thinks. Then one day she discovers a letter in the attic which reveals a shocking secret about Nico's first wife. Will Maggie set the record straight or keep silent to protect those she loves? For a family held together by lies, the truth will come at a devastating price.
November Selection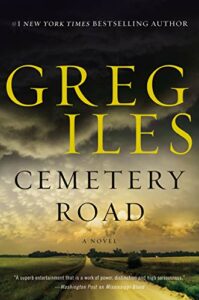 Cemetery Road
by Greg Iles
Discussion: Thursday, November 14, 2019 at 1:30 pm
at the Argenta Library
Description:
Marshall McEwan is one of the most successful journalists in Washington, DC. But his father is terminally ill, and he must return to his childhood home – a place he vowed he would never go back to. Bienville, Mississippi, is no longer the city Marshall remembers. His family's 150-year-old newspaper is failing, and Jet Talal, the love of his youth, has married into the family of Max Matheson, one of a dozen powerful patriarchs who rule the town through the exclusive Bienville Poker Club. The city's only hope of economic salvation is a new, billion-dollar Chinese paper mill. But on the verge of the deal's consummation, two deaths rock Bienville to its core. Joining forces with his former lover, Marshall begins digging for the truth. But he and Jet soon discover that the soil of Mississippi is a minefield where explosive secrets can be far more destructive than injustice.
December Selection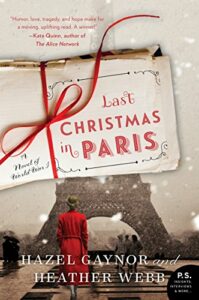 Last Christmas in Paris
by Hazel Gaynor and Heather Webb
Discussion: Thursday, December 12, 2019 at 1:30 pm
at the Argenta Library
Description:
August 1914. England is at war. As Evie Elliott watches her brother, Will, and his best friend, Thomas Harding, depart for the front, she believes–as everyone does–that it will be over by Christmas, when the trio plan to celebrate the holiday among the romantic cafes of Paris. Through their letters, Evie and Thomas share their greatest hopes and fears–and grow ever fonder from afar. Can love flourish amid the horror of the First World War, or will fate intervene? Christmas 1968. With failing health, Thomas returns to Paris–a cherished packet of letters in hand–determined to lay to rest the ghosts of his past. But one final letter is waiting for him.
Past discussion selections:
September 2019: Less by Andrew Sean Greer — Our Rating: 1.79
August 2019: The Tea Girl of Hummingbird Lane by Lisa See — Our Rating: 4.36
July 2019: Traveling Light by Lynne Branard — Our Rating: 3.1
June 2019: Delta Wedding by Eudora Welty — Our Rating: 2.0
May 2019: The Mirror by Marlys Millhiser — Our Rating: 3.95
April 2019: Beginning of Spring by Penelope Fitzgerald — Our Rating: 1.87
March 2019: The Hideaway by Lauren K. Denton — Our Rating: 3.85
February 2019: Beneath a Scarlet Sky by Mark Sullivan — Our Rating: 3.75
January 2019: The Two-Family House by Lynda Cohen Loigman — Our Rating: 3.7
December 2018: 2 AM at the Cat's Pajamas by Marie-Helene Bertino — Our Rating: 3.4
November 2018: Before We Were Yours by Lisa Wingate– Our Rating: 4.0
October 2018: Tell Me Three Things by Julie Buxbaum — Our Rating: 3.3
September 2018: The Girl in the Blue Coat by Monica Hesse — Our Rating: 3.5
August 2018: Under a Dark Summer Sky by Vanessa Lafaye– Our Rating: 4.53 
July 2018: Camino Island  by John Grisham — Our Rating: 2.4 
June 2018: Hissy Fit  by Mary Kay Andrews — Our Rating: 2.52 
May 2018: The Little Paris Bookshop  by Nina George — Our Rating: 2.75 
April 2018: The Secret Wisdom of the Earth by Christopher Scotton — Our Rating: 4.4
March 2018: Small Great Things by Jodi Picoult — Our Rating: 3.9
February 2018: Behind Closed Doors by B.A. Paris — Our Rating: 2.02
January 2018: All the Winters After by Sere Prince Halverson — Our Rating: 4.2
Click Here to see 2013-2017 Discussion Selections
Interested in participating? Let us know!
We'll keep you informed of future discussions and even place a hold on the book for you.
Each month the Book Discussion Group rates the book that we have read on a scale from 1-5