BOOK OF SHADOWS by CATE TIERNAN
A REVIEW by ALEXA DUNCAN
I already know I'll be showing my age with this one, dear readers, but every so often, I feel the urge to pick up a book (or series) I loved in high school (or earlier) to see if it still holds up. Cate Tiernan's Sweep series is one such nostalgia pick. Book of Shadows, the first book in Tiernan's long-running Sweep series, was first published in 2001. I obviously didn't read it in 2001–I was only 8 at the time–but I did read it when I was around 13 after having discovered this first book in the middle school's library. I was completely enamored with it and still remembered the series to this day, which prompted me to pick up a republished omnibus of the first three books.
Instead of reviewing all three books in the omnibus, however, I wanted to review the fir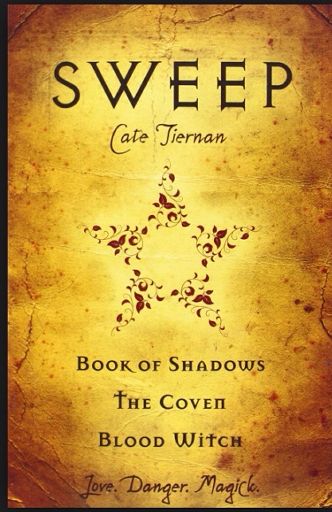 st book, Book of Shadows. It's a very short read compared to today's YA titles, clocking in at about 170 pages, but that doesn't mean I didn't love every page…because I did. The Sweep series follows seventeen-year-old Morgan Rowlands, a typical junior at Widow's Vale High School in the fictional town of Widow's Vale, New York. Morgan arrives at school one day to meet Cal Blair, a handsome new student with a mysterious aura about him. It turns out Cal is a witch and a staunch practitioner of Wicca, a very real religion that revolves around witchcraft. Morgan is instantly smitten with Cal and is drawn–along with her friends–into his new coven, where she discovers that she herself may be a witch.
Perhaps it's the nostalgia clouding my judgment, but I genuinely enjoyed reading Book of Shadows. It's light and fun and sort of campy, ensuring the book doesn't take itself too seriously. Morgan is very much a Normal YA Protagonist With Brown Hair Who is Plain but Not Really, while her best friend Bree is beautiful and outgoing. The rest of Morgan's friends also fill their roles in an early 2000s teen story. One's a geek, one's kind of popular but not really, another's a stoner. What I enjoyed the most about this book–and what I enjoyed the most when I was younger–is the book's genuine depiction of Wicca. It's not Satan worship and it isn't evil, rather it is meant as a force for good above all else. It's clear the religion means a lot to Tiernan herself because she takes great pains to paint it with a realistic brush.
There's fourteen books as a whole in the Sweep series, and while I haven't read all of them, I've read the first few. If you're looking for a fun series, something that will read quickly, give Sweep a try. And maybe go watch The Craft when you're finished!