CHERISH FARRAH by BETHANY C. MORROW
A REVIEW by ALEXA DUNCAN
Cherish Farrah by Bethany C. Morrow is an interesting case. It's not, as Morrow explained, a YA novel. And this is a YA novel review column, isn't it? (The answer is yes). It's also not an adult novel. Cherish Farrah exists in that weird, nearly-nonexistent space in traditional publishing called New Adult. Not quite YA, not quite Adult. Think 18+. That said, I decided t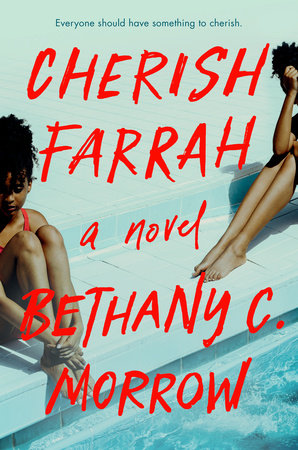 o write my review on this book because I feel it's appropriate enough for YA audiences–and it's in the YA section. Justifications aside, Cherish Farrah is a "social horror" novel following our titular teenage characters, Farrah Turner and Cherish Whitman. Both are Black girls living in an upper-crust world of country clubs and perfectly manicured golf courses. Farrah, raised by Black parents, has been best friends with Cherish, who has been adopted by mega-wealthy white parents, since they were very young. After Farrah's house is foreclosed on, she inserts herself in the Whitman household, determined to do whatever she can to stay in this ultra-wealthy world she's created for herself.
But then things start getting dark. Farrah starts getting sick/ Accidents keep happening around the Whitman household. Even Cherish is acting weird. What unfolds is an unsettling horror novel about race, class, and the deep friendship of two teenage girls.
I really enjoyed Cherish Farrah. I especially loved Farrah, who is cold and calculating and does whatever she can to get her way. She's not exactly likable, but that's what I enjoyed so much about her. Her relationship with Cherish is really interesting and their friendship speaks to the intensity of female relationships and how gratifying–and damaging–they can be. I know some readers might find this book slow or confusing, but I thought the way the drama unfolded was masterfully done. Morrow drops hints that something very disturbing is going on without hitting you over the head with it. I was kept guessing up until the very end. Speaking of the ending, I was left with the feeling of wanting more. Not that I didn't like the ending or that it didn't "fit" with the rest of the book, but I suppose I'm the sort of reader who wants a more concrete ending than what I got here.
All in all Cherish Farrah is an excellent example of slow-burn, modern horror. It's more of a psychological horror than anything, so don't go in expecting blood and guts. However, if you want to be unsettled this summer, pick up Cherish Farrah at the Oreana Library today!