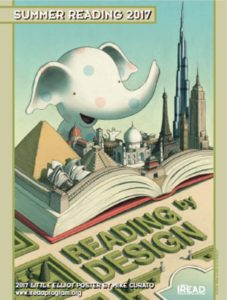 2017's Summer Reading Program is called "Reading By Design!" That means that we'll have programs and prizes related to the STEM (Science, Technology, Engineering, and Mathematics) fields. Signup for the program has begun! We have online and in-person signup available.
How to register
Registration has begun! You can register any time during the summer, even if you can't participate right away. Registration is required to participate so we can be sure everyone has a safe and fun experience.
In-Person registration: You can come to the library and fill out a registration form in person. We just need to know things like the ages of the kids, whether they have any allergies, emergency contact information for the parents or guardians, names of whoever will be bringing the kids to programs and events, and other things along those lines.
Online registration: Click here to fill out our online registration form!  If you register online, you don't have to fill out a physical form at the library. Just tell the library staff that you registered online and pick up your materials (book logs, event calendars, etc.)!
Sign up for events. If you want to come to any of the weekly programs, please let us know in advance, either through our online form or by calling or coming in. This guarantees that we at least estimate how many people will be there, which lets us know how much staff we'll need and how many snacks/drinks/crafting materials we'll need to prepare. Click here to sign up online for our programs! (You may fill out one form for multiple children.)
What is Summer Reading?
The Summer Reading program motivates children to continue reading throughout the summer and encourages them to read for enjoyment.
Children in grades 5 and below will get a reading log to keep track of how many minutes they read each week. They get to set their own goals, and if they meet them, they can get a small prize each week at the library! You can start the program at any time, so if you miss the first week, you can still come get a log and just start on Weeks 2 or 3! There will be six weeks in total. If your child is too young to read, they can still participate as long as someone reads to them. This is a great way to start a lifelong love of reading!
Children and pre-teens in grades 6 through 8 can instead get a Reading Tic-Tac-Toe card. Each card will have descriptors on it like "a fantasy book" or "a book with a cool cover." Once you've read three in a row, bring the card in and get a prize! Then, either take a new card and read three more books OR keep the same card and go for a blackout! If you read 9 books on a single card, you can turn it in to enter for the end-of-summer grand prize!
We will also have lots of programs, like movie days or LEGO days. We'll even have cool demonstrations, like what's inside a computer, or how to use a 3-D printer, or how to drive a robot!
Why should my child participate in Summer Reading?
Kids who read over the summer retain more of the skills they learned in school and are better prepared for the next school year. Summer Reading also encourages kids to read for fun!
Summer Reading activities
We offer optional weekly activities for kids to have fun and encourage them to continue learning. Most of our activities this year are about science, engineering, and technology.
Summer Reading is for teens and adults too!
Teens and adults can participate in Summer Reading too! This year, each time a young adult or adult in our program reads a book, they can give it a rating or write a full review for us to post. For each rating or review, they get a scratch-off card for a small, medium, or large prize! A rating could win you a small or medium prize, but only the full review can win you a large prize! Ratings and reviews will be posted by our New Books shelves for other patrons to read. Prizes could be something as small as candy or as big as an origami kit!