LET ME HEAR A RHYME by TIFFANY D. JACKSON
A REVIEW by ALEXA DUNCAN
I've made no secret about my love for Tiffany D. Jackson's work. She's one of my favorite YA authors in the business today, and I've loved every single one of her books. IN fact, with Let Me Hear a Rhyme, I have officially read all of her published works thus far. It's a great feeling–and deeply satisfying, because Tiffany D. Jackson is a great writer who crafts exciting, twisty, and unputdownable stories. Let Me Hear a Rhyme is no exception.
Rhyme, as I'll refer to it throughout the rest of this review, is set in Brooklyn in the late 90s after the deaths of the Notorious BIG and Tupac Shakur. There's also the death of Steph, the brother and best friend of our three main characters: Jasmine, Jarrell, and Quadir. The book opens on Steph's funeral. At sixteen, he was just getting started–especially with his budding career as a rapper–but was sadly gunned down before he could release his first mixtape. Jasmine, Step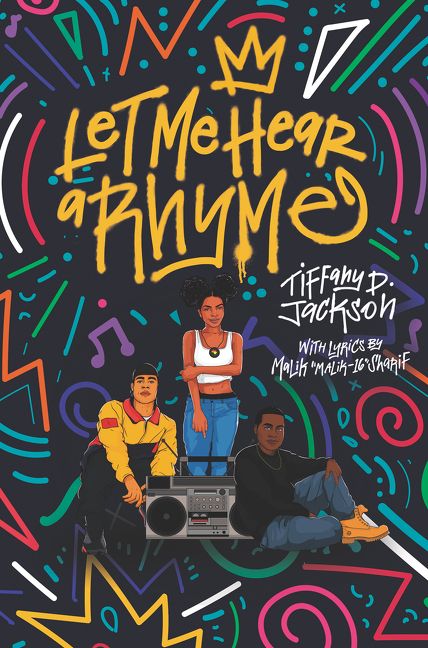 h's sister, Jarrell, and Quadir, his best friends, aren't content with letting the world forget about Steph. So they come up with a plan: Make Steph the hottest rapper in New York City by selling his old songs and passing them off like he's still alive. Jasmine, Jarrell, and Quadir hit the ground running, finding themselves in the crosshairs of the city's best hip-hop producer–as well as the NYPD. All Jasmine, Jarrell, and Quadir want to do is find out whole killed Steph. But finding the answer might kill them first.
It shouldn't be surprising to know that I loved Rhyme. I didn't love it as much as Jackson's other books–I think Monday's Not Coming is my favorite–but I still loved it all the same. Told in alternating perspectives–Jasmine, Jarrell, and Quadir's, with guest appearances by Steph before his death–Rhyme gives us a unique look into the lives of these characters, as well as a different lens with which to view the book's core mystery. My favorite POV character was Jarrell–he's hilarious, and really smart–but I loved all three POV characters for different reasons. Quadir is cool and devoted to his mom. Jasmine is level-headed and loves Lauryn Hill (who doesn't?). I'm sad at Steph's death, however, and wished we got more from him. He was an interesting character in his own right. A prequel, perhaps?
Rhyme is wildly entertaining and, being born in the 90s, I recognized a lot of the pop culture references found within the pages of this book. Rhyme is a love letter to hip-hop, and it's clear Jackson is passionate about it. Biggie and Tupac's ghosts can be felt throughout the story, though there are references to Lauryn Hill, Lil Kim, Arrested Development, Busta Rhymes, and more. There's a great sense of authenticity ringing throughout the book and I loved every second of it. As for the book's weaknesses, I didn't love how the mystery was wrapped up. This isn't a typical Tiffany D. Jackson mystery, however, so i can forgive it.