Book Club
Discuss books with fellow lit lovers in the community! We meet on the second Thursday of every month at 1:30 pm at the Argenta Library. The library can place a hold on the monthly selections for you if you wish. We also try to keep a few spare copies at each circulation desk.
Check out our top-rated books!
We're always open to new members – join at any time! If you can't make it in person to the book club discussion, click here to rate this month's book!
October 2023 Selection
Discussion October 12, 2023, at 1:30 pm in Argenta
A Noise Downstairs
by Linwood Barclay
The New York Times bestselling author of No Time for Goodbye returns with a haunting psychological thriller that blends the twists and turns of Gillian Flynn with the driving suspense of Harlan Coben, in which a man is troubled by odd sounds for which there is no rational explanation.
College professor Paul Davis is a normal guy with a normal life. Until, driving along a deserted road late one night, he surprises a murderer disposing of a couple of bodies. That's when Paul's "normal" existence is turned upside down. After nearly losing his own life in that encounter, he finds himself battling PTSD, depression, and severe problems at work. His wife, Charlotte, desperate to cheer him up, brings home a vintage typewriter—complete with ink ribbons and heavy round keys—to encourage him to get started on that novel he's always intended to write.
However, the typewriter itself is a problem. Paul swears it's possessed and types by itself at night. But only Paul can hear the noise coming from downstairs; Charlotte doesn't hear a thing. And she worries he's going off the rails.
Paul believes the typewriter is somehow connected to the murderer he discovered nearly a year ago. The killer had made his victims type apologies to him before ending their lives. Has another sick twist of fate entwined his life with the killer—could this be the same machine? Increasingly tormented but determined to discover the truth and confront his nightmare, Paul begins investigating the deaths himself.
But that may not be the best thing to do. Maybe Paul should just take the typewriter back to where his wife found it. Maybe he should stop asking questions and simply walk away while he can. . . .
November 2023 Selection
Discussion November 9th, 2023, at 1:30 PM in Argenta
The Southern Book Club's Guide to Slaying Vampires
by Grady Hendrix
Patricia Campbell's life has never felt smaller. Her husband is a workaholic, her teenage kids have their own lives, her senile mother-in-law needs constant care, and she's always a step behind on her endless to-do list. The only thing keeping her sane is her book club, a close-knit group of Charleston women united by their love of true crime. At these meetings, they're as likely to talk about the Manson family as they are about their own families.
One evening after book club, Patricia is viciously attacked by an elderly neighbor, bringing the neighbor's handsome nephew, James Harris, into her life. James is well-traveled and well-read, and he makes Patricia feel things she hasn't felt in years. But when children on the other side of town go missing, their deaths written off by local police, Patricia has reason to believe James Harris is more of a Bundy than a Brad Pitt. The real problem? James is a monster of a different kind—and Patricia has already invited him in.
Little by little, James will insinuate himself into Patricia's life and try to take everything she took for granted—including the book club—but she won't surrender without a fight in this blood-soaked tale of neighborly kindness gone wrong.
December 2023 Selection
Discussion December 14th, 2023, at 1:30 PM in Argenta
Her Fearful Symmetry
by Audrey Niffeneger
Six years after the phenomenal success of The Time Traveler's Wife, Audrey Niffenegger has returned with a spectacularly compelling and haunting second novel set in and around Highgate Cemetery in London.
When Elspeth Noblin dies of cancer, she leaves her London apartment to her twin nieces, Julia and Valentina. These two American girls never met their English aunt, only knew that their mother, too, was a twin, and Elspeth her sister. Julia and Valentina are semi-normal American teenagers — with seemingly little interest in college, finding jobs, or anything outside their cozy home in the suburbs of Chicago, and with an abnormally intense attachment to one another.
The girls move to Elspeth's flat, which borders Highgate Cemetery in London. They come to know the building's other residents. There is Martin, a brilliant and charming crossword puzzle setter suffering from crippling Obsessive Compulsive Disorder; Marjike, Martin's devoted but trapped wife; and Robert, Elspeth's elusive lover, a scholar of the cemetery. As the girls become embroiled in the fraying lives of their aunt's neighbors, they also discover that much is still alive in Highgate, including — perhaps — their aunt, who can't seem to leave her old apartment and life behind.
Niffenegger weaves a captivating story in Her Fearful Symmetry about love and identity, about secrets and sisterhood, and about the tenacity of life — even after death.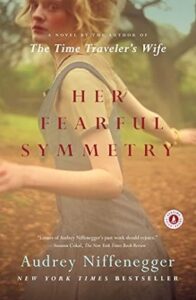 Past discussion selections:
September 2023: The Maze at Windermere by Gregory Blake Smith–Our Rating: 3.92
August 2023: The Editor by Stephen Rowley–Our Rating: 3.18
July 2023: The Readers of Broken Wheel Recommend by Katarina Bivald–Our Rating: 2.98
June 2023: Lady Sunshine by Amy Mason Doan–Our Rating: 2.93
May 2023: Sea of Tranquility by Emily St. John Mandel–Our Rating: 2.81
April 2023:
Rose
by Martin Cruz Smith–Our Rating:
3.81
March 2023: 
The Color of Air
by Gail Tsukiyama–Our Rating: 
3.4
February 2023: 
A Tree Grows in Brooklyn
by Betty Smith–Our Rating
4.16
January 2023: 
When Winter Comes
by V.A. Shannon–Our Rating: 
4.0
Interested in participating? Let us know!
We'll keep you informed of future discussions and even place a hold on the book for you.
Each month the Book Discussion Group rates the book that we have read on a scale from 1-5.