Library Online Catalog
As an AOPLD patron, you can use our online catalog, called SHARE, to find and request books both locally and around our entire library system.
Go to our catalog homepage or use the search box below to get started right away. If you need help, check out our webpage on how to use our catalog.
Search catalog for:
Library on the Go (Overdrive)
As an AOPLD patron, you automatically have access to Library on the Go, which is powered by a company called Overdrive. If you want to learn how to use it, have a look at our Overdrive help page.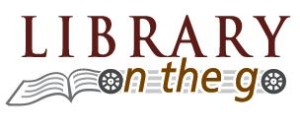 Cloud Library
As an AOPLD patron, you automatically have access to the Cloud Library which is available through our online catalog and the Cloud Library app for your smart device. Click here for instructions on how to use this service!
AOPLD Writing Center Resources
Richland College Writing Center
Richland College has compiled in their writing center a similar list of grammatical and citation resources specific to their college.
Purdue's Online Writing Lab (Purdue OWL) houses writing resources and instructional material.
The Five Paragraph Essay via Jackson Community College
Guidelines for writing a strong five paragraph essay from Jackson Community College.
Writing a persuasive essay from Hamilton College
Hamilton College's guide on writing a persuasive essay.
How to Pass English 101 in College
A practical guide to passing and reframing what it takes to be successful in English 101.
Reader's Advisory
Enter the title of a book or name of an author you love and let What Should I Read Next do the work of finding similar authors!
Join a constantly growing community of reviewers, readers, librarians, and authors on Goodreads!
Educational Resources
Educational lessons from world-renowned scientists and experts.
Expert-created content and resources for every course and level. Always free.
Includes lessons on the history of computer science and practical coding / programming lessons in Python, Git, command lines, R, SQL, and more.
Learn 30+ languages online with bite-size lessons.
Get instant access to free courses, workshops, teaching materials and connect with the creative education community.
Build skills with courses from top universities like Yale, Michigan, Stanford, and leading companies like Google and IBM.
WeAreTeachers List of Educational Netflix Shows
WeAreTeachers celebrates educators with classroom ideas, "helpline" advice, inspiration and laughs every day.
PBS Distance Learning Resources
Distance learning resources from PBS.
Common Core Curated Collections
OER Commons is a freely accessible online library that allows teachers and others to search and discover open educational resources and other freely available instructional materials.
Penguin Books Educational Resources
Resources focused on Penguin Books from the company itself.