WINGS OF EBONY by J. ELLE
A REVIEW by ALEXA DUNCAN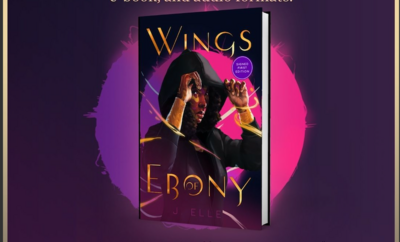 Wings of Ebony by J. Elle first caught my attention because, well, I'm familiar with the author! J's a wonderful person and very kind and I've always meant to get around to her book. I just didn't. Until now. Wings of Ebony is a contemporary fantasy novel about Rue, a teenage girl who is half-god, half-human. After her mother is murdered, Rue is taken from the only home she's ever known–a neighborhood called East Row–and forced to live in a magical island nation called Ghizon with her father, a god-like man she's never met.
Wings of Ebony is a fine book on every level. I could end my review there and be done with it, but I won't, because then this wouldn't be a very good review! I'm sad to say, however, that I didn't like this book as much as I thought I would. I didn't hate it either, but it didn't grip me as much as I wanted it to. I don't want to be too harsh, however. I'm not the intended audience for this book, as a twenty-something white woman. This book is literal Black Girl Magic and the fact that this book is a fun romp through the city while also featuring a Black protagonist is, in itself, something sorely needed. How many contemporary fantasies with white girls do we see getting published that hit the same beats as Wings of Ebony while also being universally loved? Too many.
With that said, Wings of Ebony is not a bad book by any stretch. Rue is a fun character and her voice is loud and clear. I wish we got more development from her throughout the book, but what we did get of her, I liked. Her friendship with Bri is great, too. I also loved the strong sisterly bond in the book between Rue and Tasha. However, I feel the pacing was a bit off on this one. The beginning of the book moved along very quickly while the middle felt like it dragged, then it picked up again near the ending. The worldbuilding felt a little flat as well, but that's generally something I can overlook if I enjoy the characters well enough, which I did in this case.
On a lighter note, I love the intersection between magic and technology in this book. They coexist in the world of Ghizon instead of existing separately. That's always an interesting worldbuilding in my book!
You can check out a copy of Wings of Ebony at the Argenta library today!